DTP Systems
The Most Complete System Integration Platform for AV Signal Distribution, Processing, and Control
The Extron DTP® Systems product family is the AV industry's most comprehensive integration platform for small to mid-sized AV systems supporting video resolutions up to 4K. This family includes numerous extender models in a wide variety of form factors and video formats, plus a broad offering of distribution amplifiers, switchers, and matrix switchers with essential AV signal processing and control features. DTP Systems allow complete flexibility in designing systems precisely to your application and budget requirements.
AV Signal Extension
Choose Your Distance
DTP endpoints are available with different maximum cable distances, saving cost for shorter cable runs without sacrificing other features. DTP2 and DTP 330 endpoints have maximum cable distance of 330 feet (100 meters) for all supported video resolutions. DTP 230 endpoints have maximum cable distance of 230 feet (70 meters) for video resolution up to 1080p, and maximum cable distance of 130 feet (40 meters) for 4K video.
No Video Format Worries
All DTP products have built-in video format conversion. DTP transmitters can support DisplayPort, HDMI, DVI, and VGA signals. DTP receivers can support DisplayPort, HDMI, and DVI. Any DTP transmitter is compatible with any DTP receiver regardless of video format.
Additional Audio Extension
In addition to carrying the embedded audio for HDMI and DisplayPort signals, many DTP products have an analog audio connection that extends stereo audio over the same CATx cable connection as the video signal.
Control Signal Extension
DTP connections transport RS-232, IR, and CEC signals over CATx cable along with audio and video, eliminating the need to install separate wiring to control video sources and displays.
Remote Power
Select DTP endpoints have the flexibility to serve as either the source or the recipient of DC power sent over the CATx cable. In simple point-to-point applications, the endpoints can share a single power supply, which can be located at either the transmitter or the receiver. Larger DTP switcher products can provide DC power to all connected DTP endpoints, simplifying design and installation.
AV System Functions
Endpoints
DTP transmitters and receivers come in a wide variety of supported signal types and form factors to meet the needs of professional AV applications worldwide.

Switchers
From simple two-input wallplates to complete AV solutions integrating scaling, control processing, and audio in one box, there is a DTP switcher to fit every professional AV application.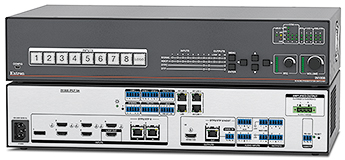 Scalers and Signal Processors
DTP scalers and signal processors leverage Extron video expertise to provide sophisticated products like Quantum Ultra videowall processing, Annotator 300 live video annotation, and the advanced IN1800 Series seamless presentation switchers compatible with XTP CrossPoint matrix switchers to support facility-wide AV infrastructures.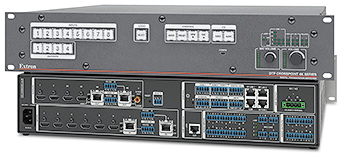 Matrix Switchers
DTP CrossPoint Series matrix switchers are powerful, all-in-one AV integration solutions for presentation environments. Available in 8x2, 8x4, 8x6, and 10x8 switching configurations, they deliver all the core functionality of an AV system including high performance matrix switching, scaling, comprehensive audio DSP, Class D audio amplification, and AV system control processing. They are compatible with XTP CrossPoint matrix switchers to support facility-wide AV infrastructures.

Distribution Amplifiers
Distribution amplifiers with DTP® twisted pair outputs are engineered for reliable operation in commercial AV applications. They feature integrator-friendly capabilities such as remote power capability, an input loop-through, and automatic input cable equalization.
Technical Capabilities



DTP products leverage Extron video signal processing expertise and incorporate exclusive technologies such as EDID Minder and Key Minder for fast, worry-free video switching. Many products support 4K video resolution. DTP CrossPoint 4K matrix switchers and the IN1800 Series feature Vector 4K scaling to deliver uncompromising image quality.


DTP products have extensive audio capability - from simple analog audio transport, embedding, de-embedding, to full matrix switching with Extron ProDSP and highly efficient XTRA power amplifier technology.

Select DTP transmitters and switchers are configurable for compatibility with HDBaseT-enabled display devices for extension of video, audio, and control signals. Many are HDBaseT-certified. There is no change in maximum cable distance for DTP outputs in HDBaseT mode.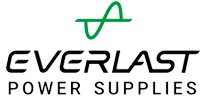 Everlast power supplies shipped with DTP products are designed and engineered by Extron for continuous, dependable operation in mission-critical environments, and covered by a 7-year parts and labor warranty.
Form Factors
DTP products come in a large variety of form factors to suit professional environments worldwide. Single I/O endpoints are available as low profile ¼ rack enclosures as well as decorator, EU, and MK-style wallplates. Switching products are available in rackmount, wallplate, and floorbox enclosures.

The Next Generation
DTP2 products build upon the extensive DTP platform to reach new heights in professional AV integration. They incorporate advanced features and functions to let you create the sophisticated, yet simple to use systems that customers demand. All extend video, audio, and control up to 330 feet (100 meters) at every video resolution.
Full 4K Capability
All DTP2 products accommodate the full 18 Gbps data rate of HDMI 2.0 and support video signals up to 4K/60 @ 4:4:4. All support HDCP 2.3 with backward compatibility with HCDP 1.4. Analog audio inputs on all DTP2 products support audio embedding and audio de-embedding is supported on analog audio outputs of all DTP2 products.
Backward Compatible
Even as they offer all-new performance and capability, DTP2 products retain compatibility with existing DTP products. Any DTP or DTP2 transmit port can be connected to any DTP or DTP2 receive port to extend video, audio, and control signals. DTP2 transmitters and DTP2 receivers must be connected to each other to support transmission of signals with data rates above 10.2 Gbps.